Welcome to
Kumbh
Conclave
Since the time immemorial, Kumbh is celebrated by scholars by diving into the holy Ganga and preaching to the pilgrims on dharma (Good Governance). The spiritual, mesmerising and epiphanic value of Kumbh Mela in India leaves an indelible imprint on the minds of the devout pilgrims.
Kumbh Conclave 2019 at Prayagraj and Goa was designed to practice the same to discuss economics, politics, society and culture as part of good governance i.e., Dharma with the scholars from all across the world.
Other than the spiritual values of the occasion , it is world's best place to experience a perfect example of public administration ,town planning ,social governance and civic management where crores of people come , stay in the city of makeshift tents at the sands with all the necessary facilities of public utility , police and security , railway and bus arrangements, sanctity and cleanliness ,roads of chequered plate ,pontoon bridges , water supply ,drainage ,markets & stalls and power house for regular supply of electricity.
For almost 3 months (differ in case of Haridwar /Nashik/Ujjain ) a new city is formed at the confluence of holy rivers which is recognized as intangible heritage in the UNESCO now.
First Kumbh Conclave of this country was organised during 27-29th July 2019 in the city Prayagraj and then in Goa before the actual Kumbh at Triveni Sangam.
Uttar Pradesh Government, U.P. Tourism, Prayagraj Mela Pradhikaran , Prayagraqj Nagar Nigam , UNESCO Chair -BHU , Allahabad University , MNNIT -Allahabad , MLN Medical College -Prayagraj , Allahabad Museum , IFFCO ,ICCR ,ICSSR , JIVA were among key program partners for Prayagraj Kumbh and Government of Goa , Goa Museum ,University of Goa, Ministry of Tourism -Goa , Datta Padmnabh Peeth Ponda were key program partners for the Goa Kumbh Conclave. Visit : http://indiathink.org/kumbhconclave/
After that we organised Sangam Samvad sessions during the whole period of Kumbh Prayagraj at the mela ashram of Parmarth Niketan, Harihar Ashram and Akshayvat Pandal of Prayagraj Mela Pradhikaran. All these dialogues were sponsored, promoted by the government of Uttar Pradesh and Prayagraj Mela Pradhikaran and organised by the India Think Council, New Delhi. Visit: http://indiathink.org/past-event.html
Since then, it is decided to organise Sangam Samvad in every Magh Mela at Prayagraj and Kumbh Conclave during every Kumbh Mela in the respective Kumbh Cities.
Read More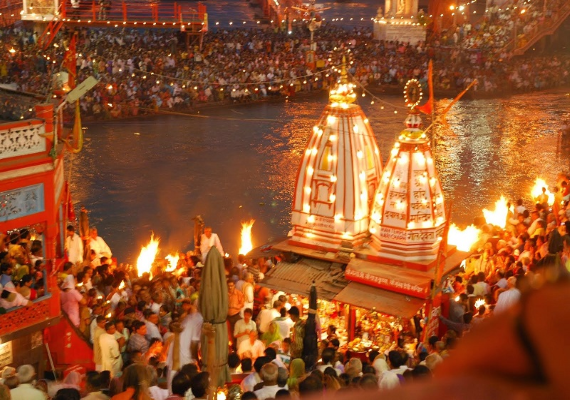 Draft Agenda and Invited Speakers for Kumbh conclave 2021 *
Inaugural & Technical/Plenary sessions (After Lunch) * 24-25th March (DVSS & Parmarth Niketan)
1. Kumbh 2019 & 2021: A review and impact over Indian cultural tour.
2. Dharma & Good Governance.
3. Spiritual circuit & religious economy.
4. Reclaim our culture and heritage and Free our temples.
5. Ganga, Environment and Faith and economy around river civilization.
6. Smart City projects and preserving our history through technological advancements and Museum movement in India.
7. City planning, Crowd Management during Mela and VIP movements.
8. City planning, Crowd Management during Mela and VIP movements.
9. Akhara, Ashram and teerth associated with the life philosophy and nation building.
10. Ayush during the turbulence period of corona pandemic and challenges in the medical sciences.